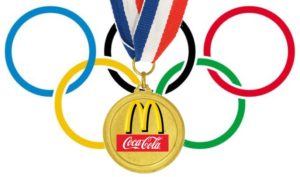 The Olympics.
Who doesn't love them? The best athletes from around the world get together and compete…
Honestly, I've never been a sports fanatic nor followed any particular sport.
And as for the Olympics, I never really gave them too much attention…
…Until the 2012 Games rolled around.
Something clicked, and I was hooked on the Olympic drug.
The Love Affair Begins
Maybe it's due to the fact that most of the events are short lived and more exciting, unlike the big three popular sports in the United States.
Maybe it's because a lot of the athletes are not as well-known and are not getting paid tens-of-millions a year like many players in the U.S. big three.
Maybe it's because events like swimming and gymnastics get filed away and forgotten about once the Olympics end, only to be released once every four years.
I'm not sure, but once I was hooked my eyes were glued to the TV during the airing of the prime-time (and often non-prime-time) Olympic events.
Then came the Winter Games in 2014. Again, my eyes were glued to the screen.
This year was no exception.
Most people know that even making it to the Olympic Games (let alone winning any color of medal) requires years of preparation, practice, and sacrifice.
The athletes that compete in the Olympics are in the top echelon of peak condition, the ninety-nine-point-five and up percenters who eat, defecate, and breathe their sport.
Getting into such lofty heights of shape and maintaining it requires dedication, sacrifice, many long hours in practice, more hours at the gym, and undoubtedly a healthy diet.
Given that, what the hell are companies like McDonald's and Coca Cola doing sponsoring any portion of the Olympics?!?
But is the Relationship Toxic?
The Olympic Games are about sportsmanship, integrity, athletics, and peak physical conditioning.
Michael Phelps did not become the best swimmer in the world and the most decorated Olympian ever by downing bottles of Coke, nor did Usain Bolt become the World's Fastest Man — claiming his unprecedented Triple-Triple in 2016, by eating Big Macs.
In fact, I'd dare to say that most Olympic athletes almost NEVER consume such products.
I also dare say that any athlete who takes his or her sport (and health) seriously either severely moderates consumption of such foods or never eats them at all.
Let's extend that even further.
Any person, athlete or not, who takes their health seriously either severely moderates consumption of such foods or never consumes them at all.
The link between excessive soda consumption and a myriad of health problems including obesity and diabetes is undeniable.
The same holds true for highly processed and nutritionally void fast food, McDonald's being no exception.
Children watch the Games and idolize the athletes. Big corporations know that.
The Games cost money. But is the International Olympic Committee that desperate for cash?
Sponsors that pedal toxic junk food have no place sponsoring an event like the Olympics; it's so ironic it's almost comical and criminal at the same time.
Imagine Joe Camel, former mascot of Camel cigarettes, as the Olympics spokesperson; it's not that far of a stretch if we're letting firms who knowingly slang unhealthy products sponsor the Games.
Shame on the IOC for letting these corporations (who very well know the detriment involved with consuming their products) sponsor the Games.
There are plenty of companies producing healthy products. There are plenty of companies producing products that have nothing to do with food or nutrition at all (i.e. cleaning products, cars, tools, etc.)
Are there no other firms willing (or monetarily able) to sponsor the Games?
Will the IOC do the right thing and reject sponsorship offers from makers of junk food?
I guess we'll find out in 2018.