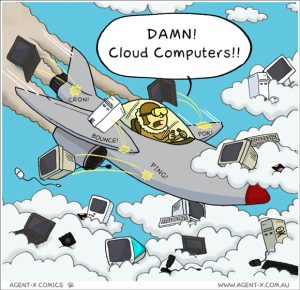 Cloud computing is quickly becoming a saving grace for small businesses (and regular users alike) especially companies that don't want to be bothered with technology or IT solutions. After all, a small business should be focused on its business, not getting its hands dirty with technology.
Many experts are beginning to believe the cloud will create a technology equilibrium between small business owners and large corporations. It's no secret that technology can create a huge competitive edge. Large corporations have always had the money, technology and IT resources to increase their advantage over small businesses. The cloud is fixing this imbalance.
Cloud Computing Basics
But what is the cloud? What is cloud storage? Even its name denotes something vaporous and hazy. In its simplest form, its a cluster of computers (servers), usually located off-site. The Internet itself is one giant cloud, and there are many smaller "clouds" within the Internet. Cloud computing utilizes third-party services to store data, run applications and collaborate on projects through the Internet. Imagine walking into your office, turning on the computer and opening up a book-keeping application on the Web instead of on your computer. When you're done with your work, you save it to the cloud – now anyone with the right password credentials can access that document and (if they have permission) even add to it.
Advantages of Cloud Computing
The benefits? For one, there is a huge financial upside to using the cloud. Think about how much is spent on owning software and licenses for an office full of employees. Cloud computing allows users to "rent" software services instead of owning them. Renting software from third-party cloud services means there will never be any installing, maintaining, updating or any other IT investments needed. All of that is taken care of by the third-party running the services. When a new version is released, it's instantly made available to all subscribers and there is no updating required.
There are no upfront costs to utilizing cloud applications. Sign-up requires only a low, flat-rate monthly fee per user that can be easily adjusted if your company increases in size, or scales down. Technology has always been a major expense for any business. Only the large corporations were able to stomach these costs, but thanks to cloud-services, technology becomes more of an operational cost than a huge expenditure.
Types of Clouds & Some Disadvantages
There are four types of cloud models that businesses use: public, private, community and hybrid.
Public clouds are the most common and fit the mold previously described. They are off-site platforms hosted by a third-party, cloud-service provider. This third-party manages everything from maintenance, security and system resources to ensure that your cloud system provides you with the latest technology at a cost efficient rate. Two problems come to mind: security/privacy, and possible access issues. For example, if your Internet connection goes down, you can still edit Word documents on your local PC, but cloud based documents could be inaccessible.
Private clouds are an option for those who want tight control over who has access to their data. Given the recent controversies surrounding data privacy, the government, and some major search engines and social networks, this may not be a bad idea. The downside is that they are created, configured, and maintained using a company's own resources. For most small businesses, the monetary cost is low. Western Digital makes a cloud-connected storage array that can be had for a few hundred dollars, for example. It is up to the business owner to set it up and configure it though, unless they hire a computer tech to do it for them. Again, the added bonus is that you can have more control over the information and security of a private cloud.
Community clouds are named so because they are implemented when multiple organizations are collaborating together. Hybrid cloud systems utilize multiple models at once. For example, some data is managed through a private, onsite cloud, but other services are accessed through an off-site, public cloud.
Many businesses are fearful of certain aspects of cloud computing. And rightfully so. The idea of having data (especially if it's sensitive information) and services hosted off-site can be stressful in itself. The common concerns non-cloud users have are security and implementation.
Security is the forerunner of these concerns. People have a hard time storing their data on the Internet because it seems so ambiguous. Using the cloud to store sensitive data requires a measure of trust. The best way to be secure in the cloud is to do the proper research and pick a cloud provider that you can trust. Think about it like renting a car. No one rents from Rex's Rent-A-Ride, vacationers choose reputable companies like Hertz or Enterprise because they want to be sure that the car they are getting into is going to run and safely transport them during their trip.
Implementing cloud computing in any business will require a degree of training. It may take a week or two for employees to become comfortable using the cloud, especially for those workers who have never used cloud computing before.
The biggest misconception about cloud computing is that business owners believing it is an all or nothing service. Many cloud service providers will try to persuade these owners into using many cloud technologies and signing up for a lengthy contract. Do not fall for this.
The best way to adapt to cloud computing is one step at a time. There is no need for one giant overhaul. Ultimately, the decision to move any data or part of one's business to the cloud should be contingent upon security concerns, reputation, cost, ease of access, and other factors.
Want to know more about maximizing technology for your business or yourself? Join the Life Hackers' Mastermind today.