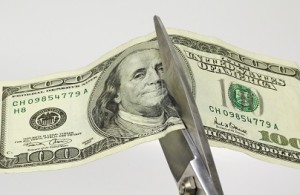 This post is for couples with at least one child who are grappling with the decision to either have both partners work outside the home or just one.
I say it's for couples with children because if there are no kids involved it is much easier (and cheaper) for both partners to work so they can reap the benefits of a double income.
Traditionally, the mom has been the one to stay home if indeed there is a stay home partner at all. However, depending on who makes the most money and other factors it can go either way. If mom's making more than dad, then common sense would dictate that dad be the one to stay home (of course, dad would have to be secure enough to slough the traditional expectation that men work rather than stay home with the kids).
With just about any job, there are costs of going to work associated with that job. These costs can be trivial or significant depending on the chosen occupation, place of residence relative to job location, whether or not the job is in the city, suburbs or country, and other factors. Let's break them down.
Childcare
Perhaps the highest cost of having a double income, at least for those not fortunate enough to have a relative willing to watch a child for free or at a low cost, is childcare.  Though the cost of daycare varies with the age of the child, type of daycare, number of children, where you live, and other factors one thing remains universal: it's very expensive.
In late 2014 NBC's Janet Shamlian reported that the cost of daycare in 30 states was higher than tuition at public universities in those states.
According to the National Association of Child Care Resource & Referral Agencies (NACCRRA) the average cost of center-based daycare in the United States is $972 a month (for babies and toddlers) but prices can swing as high as $1,564 per month depending on where you live.
What does that mean?
Assuming a 25% tax rate and the average cost of $972, you'd have to work full-time for a month and earn about $7.50 per hour just to cover the cost of childcare before you actually made any money.
Put another way, regardless of what you got paid, $7.50 would be deducted from your pay every hour just to cover daycare expenses.
The NACCRRA has a nifty tool for helping people decide whether to return to work or stay home.
Fuel
Since around the turn of the millennium, the nation's fuel prices have been on a wild – and mostly upward – ride. Some cite dwindling supplies of oil while others talk of corporate greed and government corruption. But regardless of the real reason(s) few would argue against the fact that we are in an energy crisis and the cost of fuel is becoming a more significant expense for many households, especially those with long commutes and little/no access to public transportation.
Take Yours Truly for example. Back in my college days, I commuted to campus every day, about 20 miles each way. I also found myself filling up every week, at a time when I had almost no money.
Nowadays I work from home and only fill up once every twenty-something days.
Still not convinced?
In late 2013 the Washington Post claimed cars were more fuel efficient than ever with an average efficiency of 23.6 miles per gallon.
If you drive a truck or an SUV your mileage is likely way lower than this, but let's assume you're a practical person and own a car that gets 25 miles per gallon highway. We'll also assume that you're one of the lucky ones who never gets caught in wasteful highway traffic jams many commuters face every day. We'll assume a gas price of $3.50/gallon.
Say your commute is 20 miles each way; you're driving a total of 20 x 2 x 5 miles per week which comes out to be 200 miles. Two hundred divided by 25 (the mileage your car gets) is eight. Eight gallons of gas multiplied by $3.50 is $28 per week spent on gas.
Does that seem like a big deal to you?
Consider this…
Twenty-eight dollars times 52 weeks is $1456 per year or $121.33 per month spent on gas just to get to work and back. If you were to put that extra money towards paying your mortgage off early, you'd save tens of thousands of dollars and shave several years off the duration.
Wear and Tear
Let's not forget the cost of wear and tear on your vehicle. The more miles a vehicle has, the less it's worth. Problem is you still owe the lender what you paid for it.
But even if we ignore that and the increased risk of bodily injury by accident due to more exposure,  we can't ignore things like new tires, oil changes, brake jobs, batteries, wiper blades, air filters, and the things that always seem to break at the wrong time on cars. According to the AAA, the average cost of maintaining a vehicle in 2015 was 5.11 cents per mile.
Let's do more math: $0.0511 x 200 miles per week is $10.22 per week. Multiply that out by 52 weeks in the year and you get a yearly maintenance cost of $531.44 just so you can go to work.
Parking
After graduating college with my engineering degree, I decided to listen to everyone else and ended up working for someone else for a short time. The office was located downtown, so I had to pay for parking.
The cost was $50 a month. It came with a 10 minute walk each way plus the need to remove all valuables from my car and take them with me as and there was no security and some cars had been broken into. Had I wanted to pay a $100 a month or more I could have cut that walk (and risk of theft) down.
It's safe to say that if you work in a metropolitan area, there's a good chance you're paying to park your car.
Dressing for Success and Tools of the Trade
If you've ever had a desk job you're likely no stranger to dress shirts, shoes, slacks, khakis, ties, belts, and other accessories, all of which can add up to real dollars.
Need to wear a suit? Expect to pay a few hundred dollars per suit, plus the costs of dry cleaning (note: some chemicals used in dry cleaning have been linked to cancer. This is a hidden cost, but a very high one).
Or maybe you don't have a desk job, but are still required to dress a certain way and purchase your own uniforms, like many people who work in medicine.
Perhaps you're more blue collar and have to wear hard hats, steel toe boots, and super-rugged jackets, pants, etc.
The truth is there are very few worthwhile jobs where you can roll in wearing the t-shirt and jeans you'd normally wear around the house.
Speaking of blue collar workers, if you're one of them you likely had to purchase a variety of tools to do your job; tools which will eventually wear out, get lost, stolen etc. and need to be replaced.
Meals and Drinks
Sure, you can pack your lunch every day, but who wants to do that?
After all, there's something about leaving the office and grabbing lunch with your coworkers that seems to break the monotonous drudgery of the work day into manageable pieces.
When I did my short stint working for someone else, I generally bought lunch 2-3 times a week, usually on Mondays (because Mondays suck), Fridays and sometimes other days of the week depending on circumstances (you know, ones like I ran out of time and couldn't pack my lunch or the boss wants to discuss blah blah blah over lunch at [insert place here]).
Even if you're just going for fast food (very unhealthy), meals can cost $7-$8 a pop, with better (and healthier) food costing more.
Are you in the habit of stopping at Starbucks on the way to work to grab that morning latte? At $3 or more five times a week it can be an expensive habit.
Adding it All Up – The Cost of Working
So how much does going to work actually cost?
The answers vary and depend on many factors, but let's try to add up the total cost for a typical middle-class family. We'll assume a double income household where the couple is married with one young child.
Both partners commute 20 miles each way each day. Mom's thinking of quitting because she wants to stay home with the baby and dad gets paid more. She'll be able to get on his health insurance plan.
Here's how it breaks down:
Childcare: $972/mo.
Gasoline (for mom's car @ 25 MPG): $121.33
Wear and tear on her vehicle: $531.44/year divided by 12 equals $44.29/mo.
Parking (mom works in the city): $75/mo.
Meals (she also buys lunch twice a week): $25 per week multiplied by 52, then divided by 12 is $108.33/mo.
Grand total: $1320.95/month
We're so used of associating having a job with making money that few of us stop to think about what having a job could cost us, in this case over $1320 per month!
That means (assuming a 25% tax rate) mom would have to make more than $10/hr just to break even, or for every hour she works $10+ is being deducted from her pay just so she can be there.
You may have noticed I didn't include the cost of tools or clothing in the example. It's safe to say mom's probably not an auto mechanic or construction worker, but, by the same token, it's safe to say mom does need to buy clothes for work at least once in a while. The cost of such clothes depends on the type of job and can vary wildly so they were left out. Feel free to add that expense into your own calculations (I'll show you how to do this step by step in a minute).
One more important point before we get to that though.
This article mainly deals with the financial cost of having a job, but there are other, less obvious costs as well. They include things like being there while your children grow up, the emotional and mental health of your children, less emotional stress and better health for you, a healthier, happier marriage, and more. Intangible things such as these can be far more valuable than money or any material possessions and they should definitely be taken into account when deciding whether or not you need a double income, regardless of the money you make or the cost of going to work.
So should one of you quit working? Here's the process for deciding.
Step 1: Who makes more money? Consider having that person keep their job.
Step 2: Add up the costs of going to work. Not sure how much money you spend on gas every month? Save your receipts for 3 months, then add them up and average them out by dividing by 3. That will give you an average of what you spend on fuel. Do the same with meals you buy at work and any clothes/tools.
Step 3: Figure out how much you're paying in taxes percentage-wise.
Step 4: What is your monthly pay rate before taxes? If you're hourly, multiply your pay rate by the number of hours you work each week, then multiply by 52 and divide that answer by 12. For example,
Let's say you make $15 per hour and work 40 hours a week: $15 x 40 hours is $600 a week. Multiply by 52 weeks in a year, you get $31,200. Dividing by 12 months gives you $2600 a month.
If you're salaried things can be tricky because there's a good chance you often work more than 40 hours per week. To deal with this we'll calculate an "effective pay" as if you worked 40 hours every week. Start by multiplying the average number of hours worked each week by 52, then divide this into your yearly salary. For example, say you make $60,000/year and work an average of 50 hours per week:
50 hours per week times 52 weeks in a year = 2600 hours per year; $60,000/2600 =  $23.08 per hour.
Now take that and multiply it by 40 hours (this is to "normalize" it as the definition of a full-time work week is 40 hours and salaried people often get no over-time) then multiply by 52 weeks. Finally, divide by 12. This is your effective monthly pay, in other words, using a 40-hour work week as a baseline, this is what you'd make if you were an hourly employee*.
Step 5: Take your tax bracket percentage and convert it to a decimal by dividing by 100. The subtract it from one. We'll take 30% as an example:
30/100 = 0.30.
1 – 0.30 = 0.70.
Step 6: Multiply your monthly pay (or effective pay if you're salaried) by this number as this is the portion of your pay that you actually take home. For example: $4000/mo x .70 = $2800/mo actual take home pay
Step 7: Subtract your monthly expenses from your monthly take home pay and decide if it's worth it.
*Can someone who flips burgers for a living make six-figures? Turns out the answer is yes, at least theoretically. If you got a job at a burger joint making $12 an hour (you'd probably need to be a manager in training) you could make $100,000 a year (before taxes), but you'd have to work about 160 hours per week! Even over-worked salaried employees don't even come close to that, but this does work both ways. It is possible for an employee with a seemingly high salary to have an hourly pay rate that is less than astounding, depending on how many hours they work.