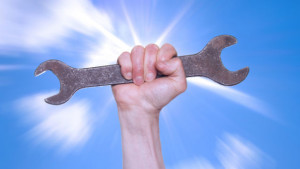 Not that long ago, there actually was a time when people repaired their possessions rather than throwing them away and buying new ones.
People took their televisions into TV repair shops when they broke, or they fixed them themselves if they could.
Common, mundane household items such as knives and scissors were sharpened rather than pitched.
A lot of people knew how to fix things on their own without paying someone else to do it for them. It was a DIY world.
Then something happened. People became too busy to be bothered, and it was much quicker and easier to replace rather than repair. And just in the nick of time, cheaply made goods and disposables came to rescue.
The Throw-Away era had arrived.
The Death of DIY
Big Business was thrilled; corporations realized that they could make a lot more money by:
Developing and marketing products that were inferior in quality and designed to break. If you were a fly on the wall during any given engineering meeting, you may hear something like: "Hey, if we make this part just a few mils thinner, we can save five cents on every hundred we make!" Now do that 15 times over the course of several decades. No wonder most products sold today only carry a one year warranty.
Developing and marketing products that were designed to be "used up" and replaced consistently (razors, paper towels, and Swiffer products are great examples of this)
Using forced obsolescence (a popular tactic with software, computers, and smartphones)
Fooling people into believing that their life would somehow be better if they ran out and bought the newest, greatest [insert gadget here].
Tricking consumers into deriving their identity from their possessions.
Making these items relatively low-cost by out-sourcing jobs to 3rd world countries (exploiting local inhabitants with slave-like wages and horrid working conditions) while simultaneously inflating the cost of replacement parts (ever bought car parts from a dealership before?). This way it would be cheaper to toss the old and buy a new rather than fixing it.
Some combination or variation of the above.
But we can't just blame the corporations, after all, businesses exist to make money.
Time itself became the one precious commodity that could not be mass-produced as more households became double-income households and the 40 hour week turned into the 50 and 60 hour week for many employees, especially salaried workers.
Right before the Throw-Away era, another insidious era was ushered in — the Super-Specialized Employee era (later in the Industrial Age and in the current Information Age), an era where workers become very proficient at a very narrow set of skills. This is unlike other eras before, as popular occupations of the past often required a more broad set of skills.
Take the farmer, for example.
Of course, a farmer must know how to plant, grow, and harvest. But they also often repaired their own equipment, barns, and houses, marketed their goods, and performed other tasks. The farmer also had the freedom to decide when and how hard to work.
But unlike eras of the past, the Super-Specialized era created time-starved one-trick ponies instead of employees with diverse skills and the freedom to learn new things.
Because of this, many people don't know how to fix different things, or they have a narrow set of things they are comfortable repairing. A mechanic knows how to fix most vehicles and an accountant may have learned how to repair computers in addition to keeping books.
But give a mechanic your computer (or your financials!) or an accountant a car to fix and most of them would be lost.
The Rebirth of DIY
Personally, learning to fix my car has literally saved me THOUSANDS of dollars in repair bills, not to mention delaying the need to purchase a new vehicle.
Just as doing many home improvement project has saved wads of cash, and learning to fix other miscellaneous items has often deferred my need to buy a new one.
Now I know what you're probably thinking — you're busy with your job, taking the kids to soccer practice, and everyday life. Besides, you're not a jack of all trades.
If so, stop it!
You're a life hacker. You are a member of the elite, one who does not always agree with the status quo and dares to challenge it. You are the outlier on the bell curve; the one who laughs in the face of "normal", partly because it's boring and partly because it's stupid most of the time.
The next time someone tells you you're a jack of all trades in any derogatory way, just tell them that it's better than being an inch wide and a mile deep.
The risk involved in fixing a broken item is usually low; after all it's broken already, so why not give it a shot?
There's little to lose.
This wouldn't be a very good Life Hack Guy post if I didn't offer up some practical useful advice you can use to restore the art of DIY while saving money and the environment. So without further delay here are some tips.
Buy a Haynes or Chilton manual if you own a vehicle and are physically able to do the work so you can do your own maintenance and repairs. It will be the best $16 investment you ever make. Start with something easy, like changing the air filter or oil, then work your way up as you gain more confidence. And yes, women can work on cars too; if you need help chances are you have a husband, boyfriend, brother, father, or guy friend who may be willing to assist if needed.
Performing simple routine maintenance procedures on your car can help keep other, more difficult (and expensive) problems at bay.
Invest in decent tools. Cheap tools tend to fail when you need them the most – like in the middle of a repair.
Rediscover the lost art of sewing to repair your clothes.
Speaking of clothes, is there a second-hand store in your area? Don't roll you eyes — consider this: there is one in my area where brand name clothes in good condition can be had for a small fraction of the original price and clothes no longer wanted can be sold.
Tackling home improvement projects and repairs isn't as hard as you may think, especially if you happen to have a handy friend. No handy friends? There are tons of books, websites, videos that show you step by step how to do many common projects. Again, start simple like changing out a bad switch or plug (kill the power first!), or hanging a towel rack then work your way up as skill and confidence increase.
Disposable mops and paper towels sure are convenient, but they definitely aren't economical or environmentally friendly. Try using an old fashioned (and reusable) mop and bucket and washable rags instead for cleaning tasks.
One of the most common modes of failure that occur in small electric devices is failure of the rechargeable battery to hold significant charge (they have a limited lifespan). Instead of throwing your old electric razor in the trash, try taking it apart, then taking the battery pack to a store such as Batteries Plus. For a small fee, they'll build you an equivalent — or even better — battery pack and they may even install it for you. You've just doubled the life of your electric razor. This trick also works great with laptops, tablets, and smartphones among other things.
Major appliances around the home can often be fixed. For example, the plastic lever that tells my ice maker when to stop making ice broke off. Eight dollars and one screw later the problem was solved, saving the pain and expense of a service call. The part was bought online. Poke around on the Internet for tips, tricks, and tutorials concerning whatever appliance you're experiencing trouble with.
Practice being content with what you already have. Do you really need that new Ultra-HD TV? Are any broadcasts actually transmitted in Ultra-HD so its benefits can be reaped in the first place? Is it worth spending extra hours at the office or on the job when the spouse and children are already starved for attention? Is it worth going deeper into debt? Probably not to all the above.