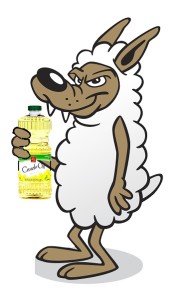 When most of us think of canola oil we think healthy. But is it really as healthy as some say it is?
The truth is it depends.
You may be shocked to find out that the canola oil you've been consuming for its health benefits isn't the Holy Grail of oils, and, in fact may be harmful to your health.
History of Canola Oil
Have you ever heard anyone talk about a canola plant? Have you ever seen a canola plant? I'd guess the answer is no and if you have heard anyone speak of a canola plant the speaker is misinformed.
Not a surprise though — canola plants simply don't exist.
Canola oil comes from the rapeseed plant, not a mythical canola plant, which is actually toxic to humans.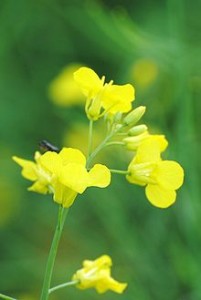 The oil is produced from the seed of the plant and the edible, non-toxic form was created by the Canadians (hence the name canola) in the 1970's. Back then, the plants were bred and cross-bred naturally in order to produce oil that was safe for humans to consume.
But the history of canola goes back a lot farther than the 70's. Canola oil (the toxic version) was used as a fuel for lamps in ancient times and as a lubricant for machines during the World War II era.
Enter the Canadians and their non-toxic version in the early 1970's. A couple decades later in the 1990's the oil was further "improved" by means of genetic engineering to make the plants more disease and drought resistant. This continues today.
Health Benefits of Canola Oil
One of the main benefits of canola oil is its omega-6 to omega-3 ratio, which is roughly two. When it comes to omega-6 to omega-3 ratios, lower is better and few edible oils have a ratio this low.
The oil is also low in bad saturated fats and has been shown to lower cholesterol, especially LDL, or bad cholesterol, due to its monounsaturated fat content.
Canola oil (unrefined) also has a reasonably high smoke point in the low 400's Fahrenheit.
The problems with Canola Oil
The first problem was already touched on earlier: much of the canola oil produced today comes from genetically modified sources. Things that are genetically modified usually get sprayed heavily with pesticides, because resistance to the pesticides is one of the reasons the crop is genetically modified in the first place.
Second, most canola oil is hexane extracted. Hexane is a petroleum-based chemical similar to octane, a chemical found in gasoline.
While octane and hexane may be good for your car, they are undoubtedly not so good for humans to ingest. Some may argue that the amount of hexane in a bottle of canola oil is so minuscule that it's insignificant.
The counter argument is two-fold.
First, a lifetime of canola can make that miniscule amount of hexane add up.
Second, the long-term effects of ingesting small amounts of hexane are not known.
But Don't count Canola Out Yet!
The truth is canola oil would be very good for you if it weren't for being genetically modified, the hexane extraction process, and the pesticides.
The good news is there is a safe and healthy way to buy canola oil. Look for the things outlined below.
How to buy canola oil
If your budget allows, buy canola oil that is organic. It is forbidden to use genetically modified crops in organic food, and pests are controlled in a natural, less harmful way, sans man-made pesticides.
If you can't afford organic canola oil (it is expensive) at least get canola that is expeller pressed; in fact, look for expeller pressed canola even if it is organic. This means no hexane residue.

Non-GMO Project Label

Again, if not buying organic canola look for the non-GMO Project verified label on the container. This means that the product has no genetically modified ingredients in it.

Optional: Canola can spoil quickly (on the shelf at the store) due to oxygen in the bottle. To avoid this, look for canola that has been sealed with nitrogen rather than oxygen. This slows down the oil's degradation. Oxygen is canola's enemy. If the oil has a foul smell, it's probably past its prime.
To find canola that meets the above standards try Whole Foods or Trader Joe's. There may also be other stores in your area that sell a lot of natural foods, thus natural canola oil also.
One Last Tip Concerning Canola Oil
There are many, many foods that contain canola oil. Some common examples are salad dressings and dips, potato chips, mayonnaise, baked goods and more.
Unless the product you're buying is either organic or non-GMO verified, beware! The canola oil in that product is likely genetically modified, hexane extracted, and may contain pesticide residue.
Like being healthy and fit? Join the Life Hackers' Mastermind and learn more about optimizing your health