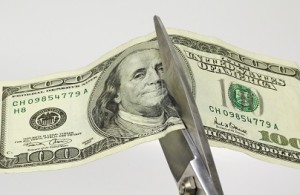 This post is for couples with at least one child who are grappling with the decision to either have both partners work outside the home or just one.
I say it's for couples with children because if there are no kids involved it is much easier (and cheaper) for both partners to work so they can reap the benefits of a double income.
Traditionally, the mom has been the one to stay home if indeed there is a stay home partner at all. However, depending on who makes the most money and other factors it can go either way. If mom's making more than dad, then common sense would dictate that dad be the one to stay home (of course, dad would have to be secure enough to slough the traditional expectation that men work rather than stay home with the kids).
With just about any job, there are costs of going to work associated with that job. These costs can be trivial or significant depending on the chosen occupation, place of residence relative to job location, whether or not the job is in the city, suburbs or country, and other factors. Let's break them down. [Read more…] about The Cost of Working: A Guide for Double Income Couples