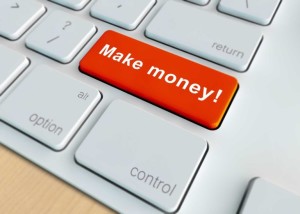 If you've spent any time surfing the Web you've seen them before: the online marketing superstar or the mega-popular blogger/author who claims to earn six or even seven figures online — all while working only a few hours per week.
Your heart starts to race. Your mouth drys as excitement wells up from your belly.
Wow!, Maybe I can do that too…or some thought similar to that races through your mind.
But don't quit your day job just yet.
The truth is, some folks do earn the money they claim from their online business in a mostly passive way.
But there's something most of them aren't telling you…
It is VERY difficult to earn seven, six, or even five figures from blogging, pod casting, selling ad space, and/or selling informational products, especially passively.
The good news: if making money online is your thing there are ways to do it reasonably quickly. No, you won't be making six figures overnight, but there is plenty of opportunity to put some extra dollars in your pocket.
Make Money by Selling on eBay
Unless you've been living in a cave since the mid 1990's, you've probably heard of eBay. One quick way to get started on the popular auction site is to go through your stuff and sell the things that you no longer want or need. But once you've sold all your stuff what do you do?
It depends.
A good friend of mine goes to comic book shows, buys boxes of comics, then sells them on eBay for a nice profit.
A long, long time ago I had a job with a popular big-box home improvement chain. They'd mark products like light fixtures and tools way down and I'd get an additional 10% off as an employee. If the product didn't sell, I'd simply return it and get my money back. No risk.
Later, I dabbled in selling products from drop shippers such as cordless phones, radar detectors, and even furniture. Lately, I've been selling tablet computer parts on a part time basis, bringing in an additional $500-$1000 per month. And I usually don't structure my sales in auction format — rather, I use the buy it now format.
Not quite six figures, but the extra money doesn't hurt either.
How do I get said tablet parts?
I buy tablet computers (usually on eBay), take them apart, and then sell the individual parts for a profit.
And there are many, many more items that can be sold on eBay, one of the world's most popular online marketplaces.
She's Crafty – Making Money on Etsy
Another friend of mine has a wife that is artistically talented. By day she's a tattoo artist; by night she sells things she makes on Etsy.
If you're artistic or into crafts, this newer market place might be right for you. And don't count eBay out for selling your wares either.
Making Money with eCommerce
How about selling other people's products? Just like eBay, the things you can sell on your own ecommerce site are virtually unlimited, and you don't have to give up a cut of the profits like you do on other popular online marketplaces, though you will need to drive traffic and pay for hosting and design.
I have a business selling a certain niche type of medical supply. We have a website with all the goods we offer (of course, we also have some of those goods on eBay) and all our items are drop shipped so we don't need to worry about tying up our money and eating up our space by holding stock. This business actually does do six figures in sales each year and a good bit of it comes from the website where buyers at hospitals often see something they want and then call or fax their order in. We also accept credit cards and get orders online.
Making Money With Affiliate Marketing
Affiliate marketing often gets a bad rep. And there are some who help sustain that reputation by doing it in a sleazy way. But others do it right and make a killing.
When you're an affiliate, you're selling other people's products for a commission, sometimes as high as 75%.
I've dabbled a bit in affiliate marketing myself. I once sold portable iPod docks for a commission — without even having a website to sell them on. I simply used Google AdWords to drive traffic right to the product sales page (which, by the way, I did not have to worry about creating myself).
More recently, I've been selling subscriptions to a popular antivirus program to computer consulting customers in my area (another business I have). The catch here is that I use the software on my own computers and can honestly and ethically recommend it.
Though affiliate marketing traditionally has not been my main forte, there is plenty of opportunity there and I'm thinking of stepping it up.
Interested?
Go to sites like ClickBank (information products, digital products) and Commission Junction (software, physical products) to get started.
Got Sense? Make Cents (and Dollars) With AdSense
Already have a website with a decent amount of traffic? Try Google AdSense. You'll get paid every time someone clicks one of the ads on your site. Do a search on AdSense to find out how to get started.
This is not something I've done myself up to this point (I'll let you guys know if and when I do), so I really don't have too much to say about it other than the fact that there are people making significant money with AdSense.
Well that wraps it up. In the future, I may elaborate further on some of the concepts presented here.
I'd love to know which ones you'd like to know more about (you may have even found other ways to get paid online not listed in this article) so I can do some posts about them.
I'd also love to know about your own successes and failures with making money online; perhaps I or another reader can help 🙂
Here's what I need you to do: comment and tell me about it. That way I can write about it and share my own thoughts, successes, and failures, thus bringing more value to you, the reader.
Then head over to my free mastermind group Life Hackers' Mastermind and join.
Until then,
Keep Hacking Life!