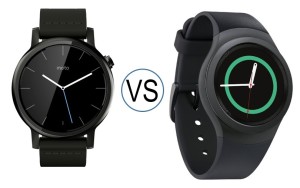 Which Smartwatch to Watch?
What started off as an attempt to find a smartwatch that actually worked and was affordable turned into an accidental experiment where I ended up with two watches in an effort to compare them and see which one I would keep. Let me explain…
Originally, I started off with a Moto 360 (first generation). My phone was an older Galaxy S3, and in order to make it work I had to root the phone and then install a newer version of Android, which I wrote about in a previous post. This worked FLAWLESSLY until I dropped the S3 and cracked the screen.
Since the S3 was three years old and paid for I decided it was time for a new phone. I found myself with a new Galaxy S6. At first, the watch and phone played nice together. Then, several days after pairing the watch with the phone, something happened… Calls would no longer show on the watch and allow me to accept or reject them, text messages also seemed to go AWOL and disappear from my watch. And my other Bluetooth devices like my ear piece had to constantly be re-paired with the phone.
It turns out that the Galaxy S6 had a known issue with Bluetooth connectivity. Why Samsung didn't fix the bug in the S6's Bluetooth radio almost a year after the phone's release remains a mystery to me. But after experiencing the same issues with two different Galaxy S6 phones I ended up switching to the Note 5.
Enter the Note 5. My other Bluetooth devices worked and continued to work fine. But after a while, I noticed that watch would lose connectivity. Must be the watch was the thought that ran through my mind. The Moto 360 first gen went back to the store. In its place came the Samsung Gear S2 watch.
The Gear S2's connectivity worked flawlessly. But I found that accessing the apps and features I used to be a bit clunkier than it was on Moto 360. Then I found out that the Moto 360 second generation had been released.
I jumped on Amazon and grabbed a second generation Moto 360 (I got the smaller version, the bigger one can be found here).
At first, I put the Gear S2 away and wore the Moto 360 2nd gen, but I still seemed to have intermittent connection trouble, though not as bad as with the first generation Moto 360. Then I decided I wanted a side-by-side comparison and wore both watches for several days. Below are my own experiences with the 2 watches.
Moto 360 2nd Gen vs. Samsung Gear S2
Battery Life: The Gear S2 won this round hands down. I had to charge the 2nd gen Moto 360 every day. The Gear S2 charged every other day. Be aware: this may vary according to your use of the watches.
Bluetooth Connectivity: Both watches seemed to have their moments where calls, texts, etc failed show when I was well within range of the phone. However, the connectivity on the Gear S2 seemed a bit more reliable. I also noticed that if I walked out of range of the phone (about 30 ft depending on what's in the way), the Moto 360 took longer to reconnect once I was within range again.
Watch Faces: The faces that came with the Moto 360 just seemed cooler to me. This is highly subjective though, and other designs can be added to both watches, some for free, others for a small fee.
Fitness Tracking: Both watches have accelerometers and gyroscopes built in which allow the devices to sense motion, including steps taken. They also have the capability to measure your heart rate. They both seemed to do a decent job of tracking daily steps, though I'm not sure how they would stack up against devices that are meant specifically for fitness, such as the Fitbit.
Durability:  Both watches sport Corning Gorilla Glass 3.
The Moto 360 2nd gen watch is IP67 certified, while the Gear S2 is IP68 certified. IP stands for ingress protection. The 6 in both ratings means the device is dust tight. The second number has to do with water resistance. The only difference between the two smartwatches is that the Moto 360 2nd gen is rated for immersion up to 1 meter while the Gear S2 is rated for immersion above 1 meter, though I could find no information on exactly how far beyond 1 meter it's good for (don't wear the watch if you're deep-sea diving). Note that the first smartwatch I ever owned, a first generation Moto 360, failed to function after taking a bath in my Jacuzzi tub while wearing it, and that my bath tub is far less than 1 meter deep. Was it the bubbles and the pressure from the jets? I may never know…
Alarm: I often use the alarm on my watch when I practice biphasic sleep. I also often hit snooze because it's hard to get out of bed sometimes. The snooze on the Gear S2 was 5 minutes and could not be adjusted vs. 10 minutes on the Moto 360. To me, five minutes is a bit short for a snooze and the fact that I couldn't change that in the settings was disappointing.
Timer: I know a lot of people probably never use this function, but since I have my hands in several different things, I usually allocate blocks of time to each one using the timer on my watch. While both watches had timers, accessing the timer and also checking it to see the time remaining was easier on the Moto 360. Checking my remaining time of the Gear S2 required more swipes/presses. With the Moto 360, all I had to do was look at the watch.
Sleep Tracking App: Sleep as Android is an app I've been using to track my sleep. It uses sensors in the watch or phone to determine when you fall asleep, wake up, and move. It also records noises in the room such as snoring, and plots sleep data in a nice neat graph for viewing later, among other things.
With the Moto 360, the app automatically syncs with the watch during initial setup. This way I can use the watch to track my sleep instead of having the phone in bed with me which would be awkward. At the time, the only way to get the app to work with the Gear S2 was to perform a somewhat complicated hack. Apparently, the add-on is now available at the Samsung Galaxy store, though I have not used it.
Speech Recognition: Smart watches don't have enough processing power to decipher speech, so they rely on the phone which then uses the Cloud to interpret speech and translate it to text. Of course, if the watch isn't connected to the phone then speech recognition or speech to text message won't work.
I've already talked about the connectivity issues. When the Moto 360 would seem to lose its connection, restarting the phone usually fixed the problem. This leads me to believe that the problem is not the watch – rather it is the app on the phone. Hopefully, Motorola works out any bugs in the code sooner than later.
Nerdy Stuff: Both watches sport 4 GB internal storage and 512 MB RAM. However, the Moto 360 gen 2 has a beefier processor, a Quad-core Cortex-A7 running at 1.2GHz while the Gear S2 packs only a Dual-core Cortex-A7 running at 1.0GHz. Both have Wi-Fi connectivity, but the Moto 360 lacks NFC, which I don't use anyway.
So, Which Smartwatch Am I Watching?
In the end I decided to keep the second gen Moto 360. I was willing to sacrifice some battery life for ease of use and access to apps and features.
A smart phone is like a regular desktop or laptop computer in that it should be restarted every day or so  to help keep things running well, so this wasn't a huge deal to me. With that said, there are many apps and functions on both watches that I did not use and therefore cannot make any intelligent comment on.
Had the Gear S2 made app access a bit easier and allowed me to adjust the snooze time on my alarm, there's a good chance I would have kept that watch instead, especially since Sleep as Android is now supposedly available for the Gear S2.
If I continue to have connectivity issues with the Moto 360 or they become worse, then I'll be forced to return the watch as a defect and with go back to the Gear S2 or consider a completely different watch. After all, a tech product is only as good as it works!