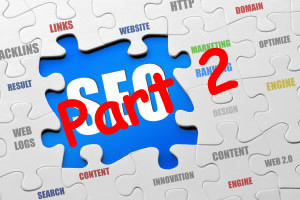 Our last installment of this series saw us shed some light on the black art known as SEO.
We gave a quick overview of what SEO is all about and talked about the "3 hats" of SEO.
Now, let's dig into some more detail so you can actually start doing SEO if you haven't already and hopefully boost your site's rankings.
SEO Meta Tags and Meta Data
Using meaningful meta tags is one of the most basic, yet effective (and easy) SEO strategies. Meta data is data about data, or information about information.
Confused? It's actually very simple. Some common, non-Internet examples would be a book citation (information about a book is data about data) and an annotated bibliography. Those who've been to a library may be familiar with the Dewey Decimal System, which locates books in a library. All are information about information.
Think of the Internet as a gigantic library with billions upon billions of books. There's got to be a way to sort, catalog, and find information.
Meta data can help.
Title Tags
A title is what shows up in the browser tabs and also the search results for a website. The image below is a screenshot from my first SEO related post as viewed in my browser.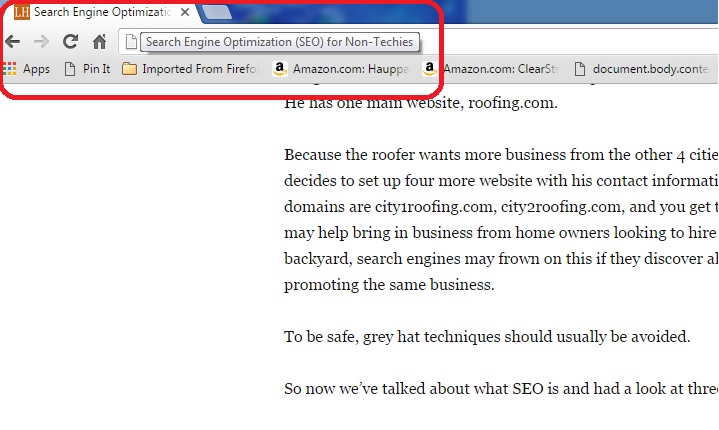 Notice the section circled in red. On the browser tab itself, we can see the first part of the title. When the mouse pointer is hovered over the tab, the full title appears as in the image above. This gives the user information on what the page is actually about. It also is important for search engine results, as we'll see below.
The image below is from Google search results. Notice how the title appears very prominently. Search engines and users alike love good titles.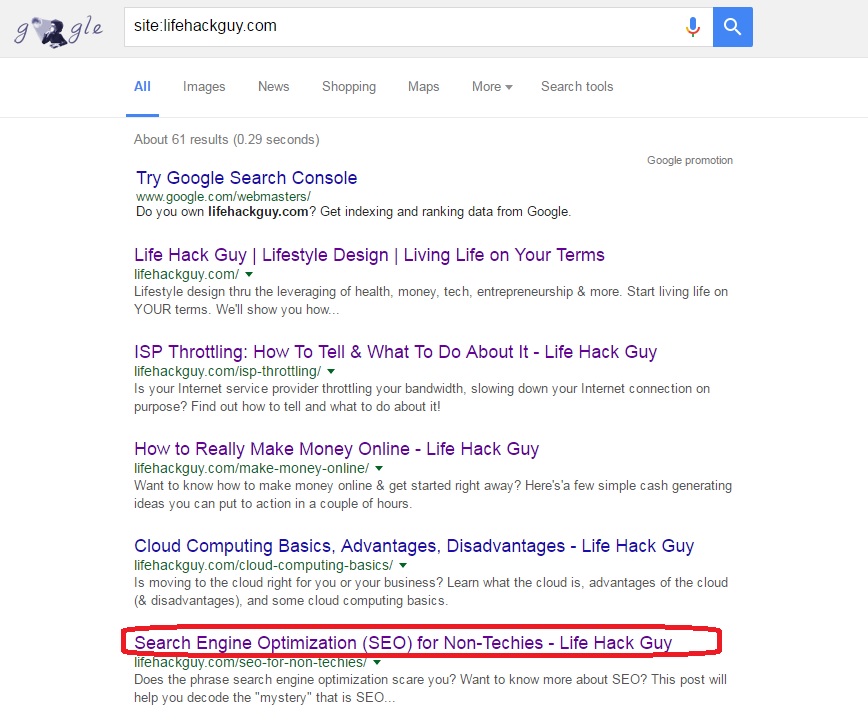 Here are a few best practices concerning title tags
Try to put at least one keyword in your title
Try to keep the title length at 70 characters or less. This is because search engines will truncate titles that are too long
Do not use generic titles like "page 1" as they give search engines and users no real information about the page
Try not to use the same title on more than one page
How to add/edit the title of a webpage
Editing the title of a page is easy, especially in popular content management systems like WordPress, which have a myriad of plugins to make things even easier. Since many people use WordPress to build their web sites, this example will show how to edit this information in that platform. I'll be using the free, yet powerful Yoast SEO plugin. Other platforms like Joomla and Drupal also make it easy.
The picture below is pretty self-explanatory. Here we can edit the title, URL, and description by clicking the Edit snippet button. Another cool thing about this plugin is the tips it gives (with the green bullets next to them). For example, if my title was 85 characters, it would let me know so I could trim it down to 70 or less.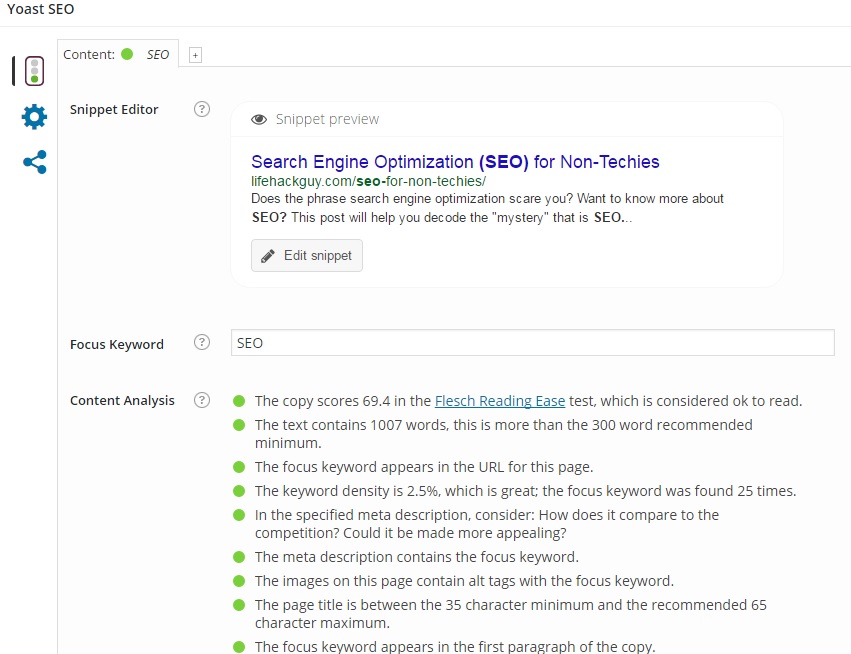 Description Tags
Clicking the Edit snippet button from above also allows us to edit the description tag, another very important piece of meta data.
The description tag is supposed to describe what the page is about and allows more characters than the title does so you can elaborate a bit. The picture below shows how the description appears in the search results.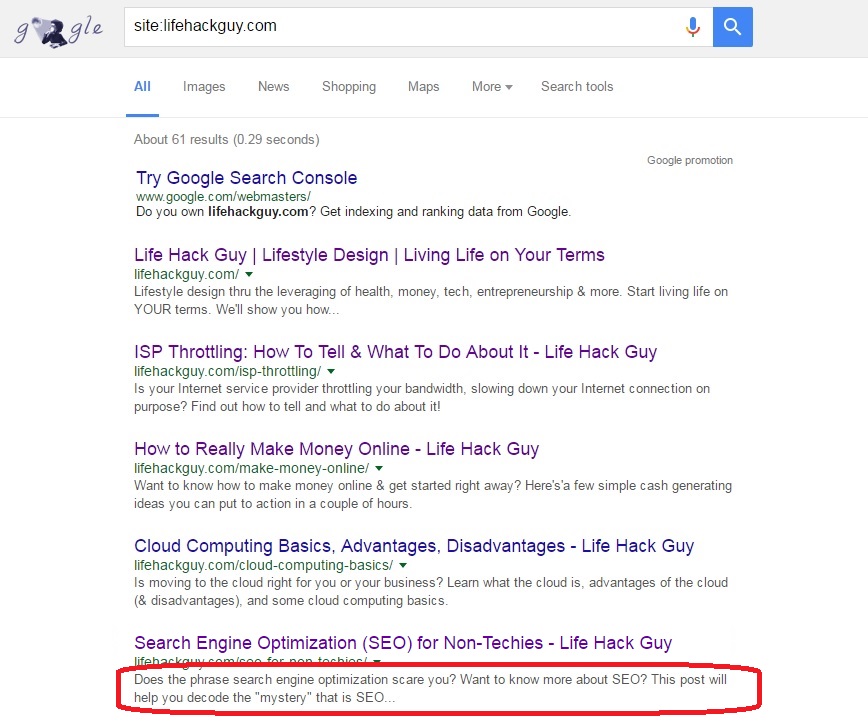 Here are some best practices regarding description tags
Try to include 1-2 keywords in the description
Keep the length between 150-160 characters
Avoid duplicate description tags
Make the description meaningful
Use a Meaningful URL for Your Content
The URL or web address of your posts and page should make sense. this makes it not only easy to remember, but the if you take a quick look at the search engines results pics, you'll see the URL also shows up there.
For example, the URL of the first post of this series was lifehackguy.com/seo-for-non-techies/.
I might make the URL for this post something like lifehackguy.com/seo-for-non-techies-2/. This makes it easy to remember, and it also tells search engines and users alike what the page is about.
An example of a bad URL choice would be something like lifehackguy.com/pub/postID=23&kw=seo+non+techies/
or something like www.example.com/product.aspx?ID=22526&IT=5f7d3f.
You should also try to insert a keyword into your URL. Speaking of keywords, that brings us to our next point…
What About the Keywords Meta Tag?
If you're even slightly familiar with SEO you may remember the keywords meta tag.
First, to avoid confusion for the newbies, there is a difference between the keywords meta tag and the keywords on your page.
Keywords are short phrases or words in your copy that occur naturally as you write and are relevant to your subject. These are what you target in the search engines and hope to get traffic from.
The keywords meta tag was a tag that was once used, but over time people began to abuse it and stuff keywords into it. Because of this, most search engines today ignore this tag and rely on other signals like page copy, links, etc to determine what the site is about and where to rank it.
Notice how there is no place to edit this tag on the Yoast screenshot above. Using it is optional, but to save time I wouldn't even bother with it, but to illustrate what it is I've included the picture below. This is the source code from a website. Notice also the description meta tag above the keywords tag and the title tag at the very top (which is way more than 70 characters).

Now that you have some real, actionable advice on SEO meta data visit your website. Does each page have unique title and description meta tags that are not cut off? Are the URLs for the pages or posts friendly, or are they a bunch of gibberish?
If the answer's no, you have some work to do. If the answer is yes, then congratulations.
That's it for now, but next time we'll delve into simple yet powerful SEO strategies you can do once again.
Are you doing SEO on your site (even if you've hired someone else to do it)? Comment and let us know.
Then join the free Life Hackers' Lifestyle Design Mastermind group.
See you there!